North Dakota Waterfowl Hunting
Directory of 11 North Dakota Waterfowl hunting lodges, guides and outfitters in North Dakota.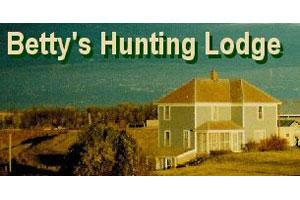 6068 14th Ave. SE, Braddock, North Dakota 58524
Phone: (701) 782-6891
The pheasants, grouse, partridge, Canadian geese, ducks, Sandhill cranes and deer loved our 4,000+ contiguous acre farm and cattle ranch so much we converted it into a hunting lodge. With large shelter belts, tree rows, large ponds, 5 miles of winding streams, excellent game management and acres of CRP land, our facility has all of the best hunting North Dakota has to offer, and more. Our hunters also have access to about 3,000+ acres of prime hunting land located about 30 minutes from the lodge. We are conveniently located approximately 60 miles southeast of Bismarck, North Dakota and only about 30 miles off Interstate 94.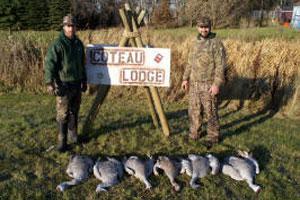 120 Whitman Ave, Wilton, North Dakota 58579
Phone: (701) 693-5785
This area is famous for its duck production as well as excellent local Canada goose populations. Our area is also in the middle of the central flyway so we see excellent numbers of ducks including mallards, pintail, gadwall, redheads, bluebills, widgeon, geese including all sizes of Canadians, snows and blues plus sandhill crane and tundra swan on their way south. We are also near the Missouri river which is home to thousands of Canada geese through the winter. Excellent hunting for pheasant, sharptail grouse and Hungarian partridge.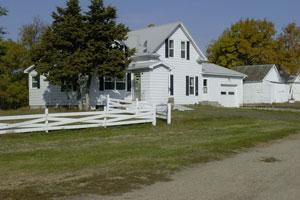 1661 33rd Ave SE, Robinson, North Dakota 58478
Phone: (701) 392-8452
The Dakota Ritz is located by Robinson ND, between Bismarck and Jamestown. Staying here gives you hunting access to 2500 acres of private land, as well as PLOTS and CRP. Besides pheasants, there are grouse, ducks, geese, and coyotes aplenty! Reasonable rates, parties of 3 or more.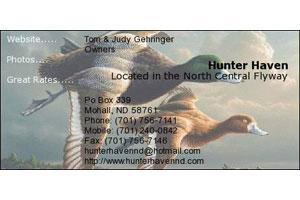 P.O. Box 339, Mohall, North Dakota 58761
Phone : (701) 756-7141
North central North Dakota at Mohall. House for rent - all seasons. Sleeps up to 10. Fully furnished including freezer. One mile from Lake Darling - Upper Souris Wildlife Refuge, the heart of the North Central flyway and North America's premier waterfowling destination. Put yourself in the middle of incredible outdoor opportunities in pursuit of ducks, geese, pheasants, sharptail grouse and whitetail deer

P.O. Box 5761, Grand Forks, North Dakota 58206
Phone: (701) 740-2996
Hunts are also available in north central North Dakota April 5th through May 5th. The first two weeks we will hunt over a large, permanent water/field spread preying on migrating adult geese much like in Nebraska. The remainder of the season we will hunt juvenile geese that stay behind the migration. Juvenile geese require more stamina because we hunt a different spot every day. The additional work usually pays off with above average kills.


155 Main Street, Kramer, North Dakota 58748
Phone: (218) 349-5226
Every fall, thousands of Canada geese, snow geese, ducks and other waterfowl choose the fertile prairie wheat lands of North Dakota as a staging area for their southerly migrations. While snow geese, blues, Canada geese and ducks are our main focus; the afternoon will also provide you with the opportunity to hunt grouse and pheasant. Once you're here, we'll take care of all food, lodging, meals, game processing and guiding.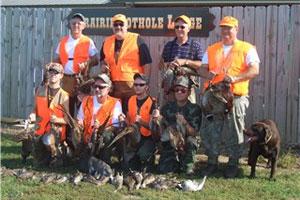 9212 100th Ave. SE, Fullerton, North Dakota 58441
Phone: (701) 783-4545
Prairie Pothole Lodge offers a combination waterfowl-upland game hunt in the prairie pothole region of SE North Dakota. The 3 day/4 night hunting package is an all inclusive hunting experience. Included in your all inclusive package is lodging, meals, snacks, guides, dogs, kennels, care of your game, complimentary beverages, clay targets, transportation to and from the field.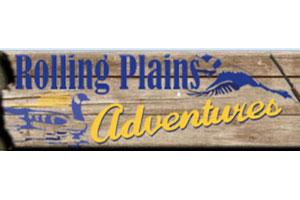 24401 62nd Ave. S.E., Sterling, North Dakota 58872
Phone: (701) 367-3737
We are located along the central flyway for migratory birds. When the birds start heading south from Canada, they hit our fields and ponds heavy. We have a full line of decoys, mojos, lay down blinds, duck boats, calls, flags, and everything else you may need to aid in hunting these huge flocks of waterfowl. You will have to see it to believe it, when these giant flocks come into our blinds!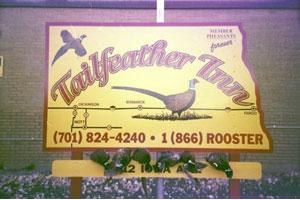 412 Iowa Ave, Mott, North Dakota 58646
Phone: (701) 824-4240
We offer comfortable accommodations and world class pheasant hunting through our exclusive "private fee hunting list." We also offer hunting for sharptail grouse, Hungarian partridge, waterfowl, and deer.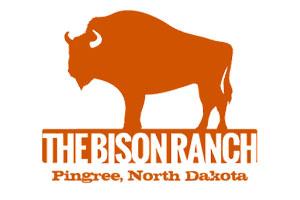 7350 21st Street SE, Pingree, North Dakota 58476
Phone: (701) 269-1558
The Bison Ranch sits in the midst of the part of the famous Prairie Pothole Region of the Missouri Coteau of North Dakota with the highest density of potholes in the country! The duck breeding index has been record-setting the past few years. Our habitat nurture every kind of duck you can think of: gadwalls, pintails, redheads, widgeons, teal, mallards, and canvasbacks. We don't use boats here. Decoy and pass shooting get the best results. Steel No. 2 and 4 shot are what you'll need.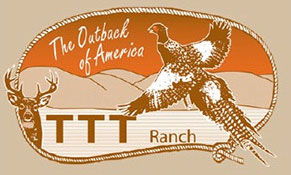 4949 Triple T Rd., Stanley, North Dakota 58784
Phone: (701) 628-2418
We can also arrange hunts for Sharptail Grouse, Hungarian Partridge, Goose and Duck. The seasons are between the second weekend in September and the first of December.